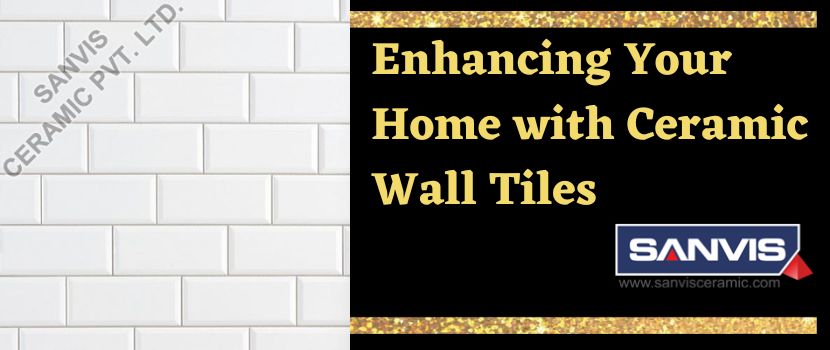 Every little detail matters when it comes to interior design and home remodelling. The selection of wall tiles is one aspect that is frequently disregarded yet has a significant influence. Ceramic wall tiles stand out among the range of possibilities because of their adaptability, toughness, and aesthetic appeal.
We shall explore the world of ceramic wall tiles from a Ceramic Wall Tiles Manufacturer in India in this essay. To assist you in improving your living environment, look at their advantages, design possibilities, and installation advice.
The Versatility of Ceramic Wall Tiles:
Because of their famed adaptability, ceramic wall tiles are a preferred material for both home and commercial settings. Ceramic tiles are a great option whether you're remodelling a bathroom, kitchen or any other space. They are available in a variety of shapes, hues, and patterns, so you can use your imagination to create the ideal design for your room.
Durability that Lasts for Decades:
Ceramic wall tiles' exceptional durability is one of their greatest benefits. These tiles are created from clay and other organic materials that have been heated in a kiln.
The tiles produced by this manufacturing technique are durable and a wise long-term investment for your residence. Ceramic tiles won't fade, distort, or peel over time as paint or wallpaper will. This makes sure that your walls look good and work well for many years.
Easy Maintenance for Busy Lifestyles:
Most homeowners place high importance on keeping their homes clean and hygienic, and ceramic wall tiles make this chore simple. Their spot-, moisture-, and odour-resistant smooth, non-porous surface.
They are therefore the perfect option for places like kitchens and bathrooms that frequently see spills and splashes. Your ceramic tiles can remain spotless with only a quick wipe with a moist cloth or a light cleaning agent.
Design Options to Suit Every Taste:
Ceramic wall tiles provide a wide range of alternatives when it comes to design. There is a ceramic tile for every taste, from traditional patterns that never go out of style to bright, modern patterns. Whether you want to use soft pastel tiles to give your bathroom a tranquil, spa-like ambience or mosaic tiles to bring a dash of colour and texture to your kitchen backsplash. Utilising it opens up a world of opportunities.
Installation Made Easy:
Ceramic wall tile installation may seem like a difficult process, but with the correct equipment and advice, it can be a worthwhile Do It Yourself project. The following are the essential stages for a productive ceramic tile installation:
● Make sure the wall surface is dry, clean, and clear of any trash or outdated adhesive. A level, smooth exterior is necessary for a polished appearance.
● Before applying glue, plan out how you will arrange your tiles. To keep grout gaps between tiles consistent, use spacers.
● To prevent the glue from drying out, apply an appropriate adhesive in tiny areas to the wall using a notched trowel.
● When installing tiles, be sure to line them with your layout design as you gently push each tile into the glue. To guarantee uniform positioning, use spacers and a level.
● Use a rubber float for putting grout between the tiles once the glue has cured. With a moist sponge, remove any extra grout.
● Consider using a grout sealer to shield the grout from stains and moisture once it has dried.
A flexible, long-lasting, and visually pleasant option for upgrading your home's interior is ceramic wall tiles. They provide a classic and useful alternative for walls in many different spaces because of their numerous design possibilities and simple upkeep.
These tiles may completely change the look of your walls and raise the interior decor of your house to new heights. They range from traditional elegance to modern flare. Choose ceramic wall tiles wisely from a Ceramic Wall Tiles Manufacturer in India, and you'll profit from them.