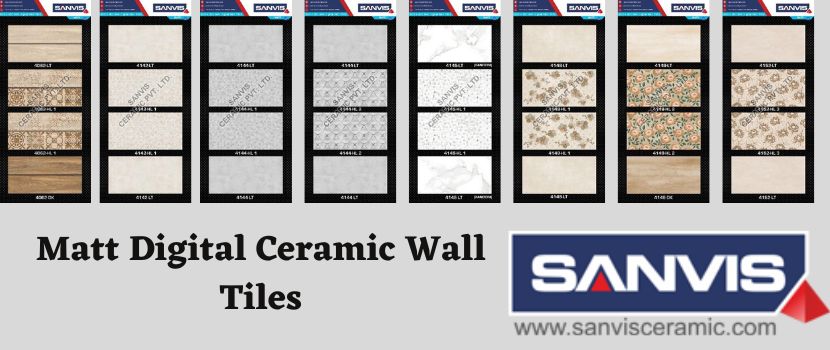 When it comes to renovating or designing a new house, choosing the right tiles for the walls is crucial. Whether it is for the bathroom, kitchen, or any living area, tiles can make a significant impact on the overall look and feel of the place.
In recent years, digital ceramic wall tiles have gained immense popularity for their durability, functionality, and aesthetic appeal. Among several types of digital ceramic wall tiles available in the market, matte-finished tiles have become the first choice for many homeowners and builders.
Matt digital ceramic wall tiles are versatile, easy to clean, and can elevate the aesthetic appearance of any space. They offer an endless range of design options, from plain matt finish to textured and patterned ones. However, there are several other benefits of matt digital ceramic wall tiles that make them an ideal choice.
Durable and Long-lasting
Matt digital ceramic wall tiles are highly durable and can withstand scratches, damages, and heavy foot traffic. Unlike traditional painted walls, these tiles do not wear out easily and are resistant to fading, water, and stains. They are also easy to clean and do not require any special maintenance. With proper care, they can last for several years, making them a cost-effective solution in the long run.
Variety of Design Options
Matt digital ceramic wall tiles come in a wide range of designs, patterns, and colors, making them the perfect choice for any style or theme. You can choose from plain, textured, and even 3D designs to create a unique and stunning look. They can be used to create a feature wall, a backsplash or even as a full wall covering, making them an incredibly versatile design option.
Easy Installation
Matt digital ceramic wall tiles are easy to install, and the process consumes less time and effort. The tiles come in various sizes and can be cut and placed according to the design requirements. They can also be installed over existing walls, thereby reducing the time and money spent on demolishing and rebuilding.
Environment-Friendly and Hygienic
Matt digital ceramic wall tiles are eco-friendly and do not cause any harm to the environment. As they are made from natural materials, they do not emit any toxic substances. They are also easy to clean and do not collect any dust or dirt, making them a perfect addition to places where hygiene is of utmost importance, like the kitchen or bathroom.
Cost-Effective Solution
Matt digital ceramic wall tiles are a cost-effective solution as they require less maintenance and last longer than traditional painted walls. Additionally, since they are easy to install, the cost of installation is also typically lower. Furthermore, as the tiles come in various sizes, you can purchase only the required amount, thereby reducing wastage.
Conclusion
Matt digital ceramic wall tiles are one of the best choices for modern home decor. They offer numerous benefits, such as durability, versatility, cost-effectiveness, and ease of installation. Not only do they provide a decorative touch to the walls, but they also provide long-term solutions for wall decoration. With the endless design possibilities, matt digital ceramic wall tiles can enhance the beauty of any space in a sustainable and practical manner.