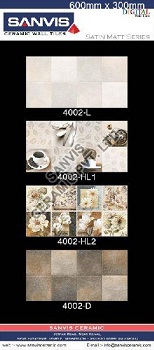 Making your living area more elegant by incorporating flowing art into it allows you to live it more exclusively. Every space in your house has a distinct tale to tell, and every corner of your office makes people recognise your accomplishments. However, if your living area is drab and monotonous, or worse, out of sync with your unique mood, you won't observe this occurring.
You can repaint, decorate, or furnish the space with high-end furnishings. But, without a question, tilling is the most practical and attractive choice given the variety of tiles produced by the Satin Matt Digital Wall Tiles Manufacturer.
There are many different types of tiles commercially available that will not only offer your living space the décor it deserves, but will also maintain a long-lasting trend impact.
Get To Know the Tiles
To be honest, the variety of things available in the arcade, both online and offline, is out of this world. Your mind will be boggled by the sheer number of variations, designs, and sorts available. And this conflict may even get the best of you, leading you down a path that will cost you more and provide you with less. As a result, knowing your tiles is always a good idea.
The tiles are available in a variety of shapes, sizes, and styles. The majority of the tiles now available, whether for floors or walls, are composed of ceramic or porcelain.
The vitrified version of this material is more durable and profitable. However, the tiles' basic character helps them stand out, and the polish is the true winner. Plain, glossy, matt and Satin Matt Digital Wall Tiles will be available.
Choosing A Tiling Style That Appeals to You
Satin finishes are the newest craze among Satin Matt Digital Wall Tiles Exporter, thanks to their smooth and undefined appearance, as well as their clean and transparent appearance. Everything appears crisper, more spacious, and sanitary with satin tiles.
This finish on the floor tiles offers an exuberant yet beautiful pattern for the entire living area, setting the tone and character for other decorations and allowing you to plan your remodelling concept and budget. The floor tiles India will provide you with the opportunity to transform your home into the ideal canvas on which to create your own personal décor.
Then there are the wall tiles; whether it's for the bathroom or the kitchen, keeping the space clean and uncluttered is a must. However, the present trend is more dispersed than ever. Wall tiling is no longer limited to utility rooms but has spread to include the bedroom, drawing room, and even the exteriors.
Satin-finished tiles produced by Satin Matt Wall Tiles Manufacturer will give your inside rooms the designs you like, and outside wall tiles will make your balcony, porch, and swimming pool even more beautiful than you could have imagined.
Final Words
Satin Matt Digital Wall Tiles are in the middle of the matte and gloss spectrum. These tiles are easy to clean and maintain due to their flat surfaces. Satin-finished tiles are in the middle of the matte and gloss spectrum. These tiles are easy to clean and maintain due to their flat surfaces. These tiles are suitable for use in bathrooms, bedrooms, kitchens, and En-suite facilities.