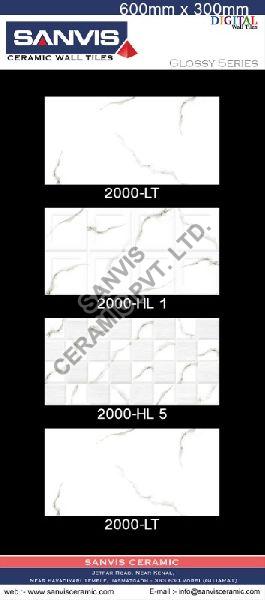 Digital tiles are one of the latest inventions of tiles. It is made of ceramic and vitrified materials that are usually manufactured using digital printing. Digital printing techniques have made it possible to add any extra decoration or design to the surface of the tiles. Glossy Digital ceramic wall tiles are available in various sizes. A wide range of digital wall tiles is available to enhance your room decoration.
Reasons for Choosing Digital Wall Tiles
The significant reasons for which you should choose digital wall tiles are as follows-
Digital wall tiles are available in various colours, textures, and prints. Vibrant-looking digital wall tiles can change the decoration of your room.
Digital wall tiles are famous due to their affordability and durability. Apart from this, you can get varied design options for the digital wall tiles that are effective. These tiles are damp resistant and have less water absorption capacity. Due to these factors, tiles remain in shape for a longer period.
The size of a tile is also essential. Tiles come in different dimensions that enhance the different looks of your house.
Digital tiles are available in patterns such as glossy, silky, and matt. Glossy digital ceramic wall tiles manufacturers always use a unique gloss finish to create a mirror-like reflection in your room.
Glossy digital tiles are easy to maintain. You can use simple shampoo or soap to clean this tile.
Characteristics of Glossy Digital Tiles
Glossy digital tiles are famous for their unique gloss finishing and long-lasting shine. But the other essential features of the polished digital titles are as follows-
Glossy finishing digital tiles give a stunning mirror-like shine. Their reflective surface bounces light around the space, making the room bigger and brighter. Polished digital tiles are an excellent option for smaller areas.
Due to the smooth finishing, glossy tiles are easy to clean.
Glossy digital ceramic wall tiles add an elegant touch to any space. Glossy finish digital tiles can be your perfect choice for larger areas like bedrooms and living rooms.
Due to their ability to stain and scratch-resistant capacity, glossy digital tiles are an excellent choice for bathroom and kitchen walls.
Process of Choosing the Glossy Digital Tiles
When you decide to buy digital tiles from an authentic glossy ceramic wall tiles manufacturer, you should consider the following factors-
Functionality is an essential factor to consider while choosing digital tiles for bathroom walls. The bathroom is the place where maximum usage of water has occurred; thus, you should select water-resistant digital tiles.
Also, check the finishing of the digital wall tiles; a proper finishing can enhance your room decoration.
You can buy the digital wall tiles per your room's colour. You can choose cartoon embossed digitally printed tiles for the kids' room. But always consider the price of the digital tiles.
Thus, choosing a glossy ceramic wall tiles exporter is essential for your ultimate benefits. You can take the help of several online stores.